ESPROS supplies world leader for delivery robots
Starship Technologie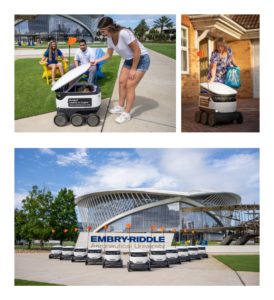 s' autonomous delivery robots implement ESPROS' epc660 Time-of-Flight chip
ESPROS' epc660 chip is used by Starship Technologies, a pioneering US robotics technology company, headquartered in San Francisco, with its main engineering office in Estonia, is the world's leading provider of autonomous last mile delivery services.
What was once considered science fiction is now a fact of modern life: in many countries robots deliver a variety of goods, such as parcels, groceries, medications. Starship's robots are a common sight on University campuses and also in public areas.
Using a combination of sensors, artificial intelligence, machine learning and GPS to accurately navigate, delivery robots face the need to operate in darkness, but also in bright sunlight. ESPROS sensors excel in both conditions.
The outstanding operation of the ambient light of ESPROS' epc660 chip, together with its very high quantum efficiency, provided a valuable breakthrough that Starship Technologies needed to further increase autonomy in all ambient light conditions. It wasn't possible to achieve the same level of performance, implementing other technologies.
ESPROS' epc660 is able to detect objects over long distances, using very low power. This, together with its small size, results in lower system costs. The success of this chip lies in the years of development by ESPROS and in its strong technological know-how. The combination of its unique Time-Of-Flight technology, with Starship Technologies' position as the leading commercial autonomous delivery service, lies at the heart of over 3.5 million commercial deliveries and over 4 mil – lion miles driven around the world.
"The future of delivery, today: this is our bold promise," says Lauri Vain (VP of Engineering at Starship), adding, "With a combination of mobile technology, our global fleet of autonomous robots, and partnerships with stores and restaurants, we are helping to make the local delivery industry faster, cleaner, smarter and more cost-efficient, and we are very excited about our partnership with ESPROS and its unique chip technology."