ESPROS voted No. 1 optoelectronic company of 2022
The S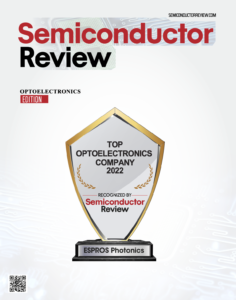 wiss company has been voted by the influential Semiconductor Review publication, going so far as to say ESPROS is "shaping a new paradigm of Time of Flight technologies", with exceptional performance under full sunlight with moving objects and varying target reflectivity. ESPROS' unique technology and its ability to help clients analyze an application and offer proven engineering solutions have ensured its growth as a custom ASIC chip manufacturer and 3D TOF module designer.
The company's true system-on-chip TOF imager enables improved time delayed imaging and fluorescent lifetime imaging outcomes.
In the current scenario merging 3D imaging and optical sensors for mass applications requires very fast time resolving capabilities plus high sensitivity in NIR, conventional manufacturing processes are not robust enough dealing with background light movement and reflectivity. That's where ESPROS has a major advantage having developed a backside-illuminated imager that merges CCD and CMOS technology.
The ESPROS approach means expensive peripheral components such as FPGAs and A/D converters are not required. This also means ESPROS products are both more cost effective and compact. ESPROS Photonics offers a wide range of TOF chips and line imagers as well as sensor modules, using its proprietary OHC15L silicon imager technology. Meanwhile, its off the shelf reference design 3D modules speed up a customer's time to market.