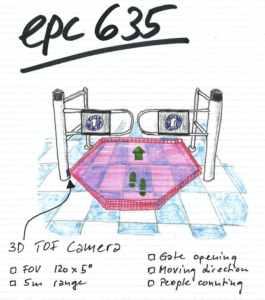 Automated gates are a standard feature in many commercial and residential buildings and public infrastructure as well as in industrial environments. They are a substantial aid of accessibility for everyone, not only for people with disabilities.
In addition these gates can also perform people-counting in shopping centers, stadia or airports. Sensors based on ESPROS time-of-flight imagers offer a powerful solution for these tasks. The reliable presence detection in dark as well as under full sunlight conditions protect people standing in the doorway of a pedestrian gate.
Recognition of movement direction allows selective door control and reliable counting of entering or leaving people. Combining these major features in one single sensor allows the most cost-effective solutions.
Get in touch with us for more information.