Product range extension: line imager epc90x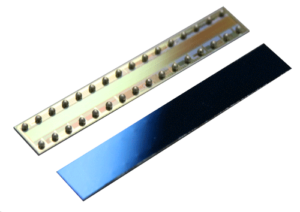 The epc902, epc903, epc904 and epc905 are derived from the very successful epc901 line imager chip and are high-performance CCD line sensors, embedded in a CMOS framework. Thus, they are solid state CCD/ CMOS imagers.
They offer higher speed and higher sensitivity compared to the epc901 chip. All imagers have in common that they can store a total of up to 4 frames in the CCD frame store for ultra high-speed image acquisition.
They all feature a high performance video amplifier (single ended/differential) analog output.
The devices are rich in features:
Pixel length of 120μm
Gain selectable of 1, 2 or 4
Transmission direction l/r and r/l
Single- or multi-frame acquisition
Backside illuminated CCD array with 100% fill factor
On-chip correlated-double sampling (CDS)
5-pin control interface and I2C bus interface
Internal clock source, single supply voltage
Two on-chip temperature sensors
Extremely small CSP package
For further information get in contat with us:
The technical data and the product selector you will find here:
Data Sheet