From: Ocutech Inc.
Date: 21 Oct 2019
Contact: Henry A Greene, OD, FAAO President, Ocutech, Inc. ; +1 919 967 6460
Technology designed for self-driving cars is now being applied to help low vision individual see as close to normal as possible.
A project, led by Ocutech, Inc. a developer of vision enhancing devices for the visually impaired, in collaboration with the engineering firm Image Quality Labs and ESPROS Photonics AG, has created the world's only self focusing bioptic telescopes. Bioptic telescopes allow visually impaired individuals to magnify objects making them easier to see, similar to the use of binoculars. They may provide close-to- normal visual acuity for individuals with vision as reduced as 20/300. But since bioptics must be focused to be used at different distances, they can b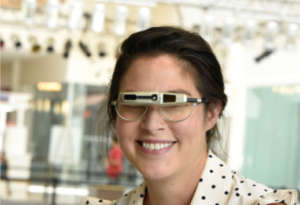 e inconvenient, if not difficult to use. Incorporating time of flight (ToF) technology has enabled the development of the Falcon Autofocus Bioptic, which by measuring distance at the speed of light, allows the device to focus smoothly and immediately to virtually any distance, providing the most natural and easy to use magnification possible.The Falcon incorporates wide-field Keplerian optics and is available in 3x, 4x and 5.5x powers. Weighing just 3.2 ounces (90gm), the Falcon device, mounted onto custom-designed conventional eyeglasses, can be worn comfortably for hours. It can operate for over 8 hours using its separate rechargeable battery pack.
Experienced manual focus bioptic wearers report how much easier and more natural the Falcon is to use. Intended for individuals with central vision loss from disorders including Macular Degeneration, Stargardt's Disease, Albinism, Nystagmus, Optic Atrophy, Achromatopsia and other Photo-receptor disorders, the Falcon, as well as Ocutech's manual-focus versions have helped individuals of all ages throughout the world, allowing them to fully engage in the world around them such as to see signs while traveling and shopping, the board in school, recognize faces of friends and family, and where legal, perhaps even drive.
Ocutech bioptic telescopes are available through low vision specialists throughout the world. Contact Ocutech for more information.